BINDLEBLAST

 ALERT
the latest news from Bindlestiff Studio
an epicenter of Filipino American Performing Arts
5 QUESTIONS (AND RANDOM TRIVIA) WITH DIANNE CHUI
The Bakla Show 3 opens this weekend and runs from June 12-28, Thursdays-Saturdays @ 8pm. This time around, the beloved production series sheds light on the experiences of LGBTQ Pin@y youth and promises to be a deeply personal experience for the artists and audiences alike.
So let's get to know one of those artists involved with the show, shall we?
Dianne Chui – who grew up a block away from Bindlestiff Studio – co-directs the play, "A Date for the Dance", written by Marygrace Burns. Active with Bindlestiff for more than a decade now, Dianne's artistic journey has led her to shadow puppetry, writing, acting, and now directing.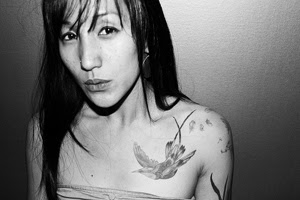 5 THINGS TO KNOW ABOUT DIANNE CHUI
1. She got involved in theater by chance- at first
"When one of my sister's puppeteers got pregnant for her one woman show 'Babae' which was a Bindlestiff show in 1997, I filled in. And then I came back to Bindlestiff when she forced me to be in the Movement Show. Then, I never left!"
2. One of the oddest comments she got as a queer pinay was…
"Getting cat calls like "Oh yahhhhh!" or "Can I join?" while being affectionate with my partner."
3. Her greatest accomplishment so far would make Beyonce look like a slacker.
"Starting a mentorship program from scratch in a middle school in SF with three other colleagues, while supporting myself in college and working two jobs."
4.  There's one big misconception about Baklas that she'd like to clarify:
"That all queer women are masculine and all queer boys are flamboyant. We come in all shapes and sizes baby"
5. One takeaway she'd like the audience of the Bakla show to bring with them:
"To get an inkling of what it feels like to grow up queer and Fil-Am in the U.S. It's not easy, there are cultural and generational paradigms that we need to sift through in order to figure out how we fit, and ultimately be happy. For them to realize that being queer is a human experience."
RANDOM TRIVIA:
Favorite celebrity to follow on social media:
Erykah Badu. Hot.
Favorite hashtag/tweet/fb status:
#mrscraggly because my dog is #hellacute
Oddest day job:
I used to pluck my older brother's white hairs, $0.25 a pop!
Most valuable advice you got:
Always finish what you started. If you commit to something, always do your best. Never give up.
Most surreal experience:
Waking up after falling from a 3 story building.
The Bakla Show 3
June 12-28
Thursday – Saturday, 8pm
Students and Seniors: $10
General: $15
Support the Artists: $20
(Pay-what-you-can, June 12 only)
Purchase tickets online: http://baklashow3.bpt.me/
Jun 12 – 28
Celebrate Pride 2014 at Bindlestiff Studio
The Bakla Show 3
When: Jun 12 – 28 (Thurs – Sat)  8pm
Location: Bindlestiff Studio 185 6th St. San Francisco, CA
Cost: $10 – $20; Click here to purchase tickets.
Sponsored by:
Asian Americans/Pacific Islanders in Philantropy (AAPIP), Asian Pacific Islander Cultural Center (APICC), Horizons Foundation, Red Envelope Giving Circle (REGC), San Francisco Arts Commission, Participant of 17th Annual United States of Asian America Festival 2014
The Bakla Show 3 seeks to explore the textured and multidimensional experiences of LGBTQ/GNC F/Pilipin@ youth struggles, hardships and turmoil and to bring to the forefront the celebrations, joy and love. The 2010 production The Bakla Show 2: Myths Retold, Realities Unfold showcased sketches that went on to garner numerous awards and accolades, including: Edgar Poma's "Tude and Gratitude" which, as part of Eat Our Shorts, was recognized with the SOLD OUT! Award for outstanding box office performance at the SF Fringe Festival 2010; and Emmanuel Romero's "Viewer Discretion Advised (Tape 96)" which was adapted by Drew Stephens into a much-lauded short film  (Best Fest Short Program  LGBT Film Festival, Audience Award  San Francisco Scary Cow Film Screening, Best Short  Cinema St. Louis Q Fest, nominated Best Short  Barcelona Int'l LGBT Film Festival). 
Click here for more info…