BINDLEBLAST ALERT
the latest news from Bindlestiff Studio
an epicenter of Filipino American Performing Arts
RANDOM FACTS (AND TRIVIA) ABOUT LYNIE ABADILLA
The Bakla Show 3 enters the second week of its three-week run (through June 28, Thursdays-Saturdays @ 8pm), which gives us another opportunity to get to know some of the artists involved with the show.
For Lynie Abadilla, it's better late than never. She says she's finally pursuing her true calling when she decided to take up acting as a profession. Lynie's lists of theater productions and auditions eventually led her to be involved in The Bakla Show 3. Her former cast member, Perry Aliado from Banyan in 2009 referred her to audition forConrad Panganiban's piece, Inay's Wedding Dress.
Lynie plays Rianne, and admits, "After reading the story and what the show was all about, I definitely wanted to be a part of it."
5 THINGS TO KNOW ABOUT LYNIE ABADILLA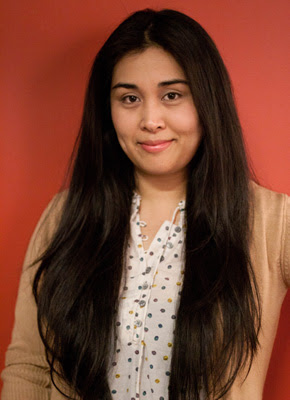 Though she considers it "a little late in the game," her passion for acting is her greatest accomplishment to date.
"So far, in my journey my greatest accomplishment would be pursuing my dream in acting (believing that I was an actor). For so long I have been conditioned to do what I am supposed to do by a specific date and time, but now I realized it is all about doing what makes me happy. I have found my voice and I love telling stories that need to be heard."
She used to dance and imitate the Solid Gold Dancers when she was a toddler.
"It is a little late in the game, but the art of acting and storytelling beats strong in my heart. It's a different kind of love. Ever since I imitated the Solid Gold Dancers when I was a toddler there always something in me that needed to perform on stage.
Her long commutes from Petaluma didn't stop her from being part of her first Bakla Show. Her family wasn't deterred either.
"This will be my very first Bakla Show and so far my friends and family have been very supportive. They have seen my commitment from the late night rehearsals to the wonderful commutes from Petaluma and are excited to see all the hard work play out on stage."
Her favorite childhood memory doesn't include being indoors.
"My favorite memory would be playing outside with my friends until the streetlights came on. We would ride bikes, play Hide and Seek, drink "Squeeze Its," listen to New Kids on The Block on my Baby Pink Boombox… and coming home to my mom yelling 'You smell like Sun!'"
She hopes The Bakla Show 3 would be a conversation starter, if not an eye opener.
I hope it encourages people to have those conversations that are difficult to start. I hope the audience can see themselves in the characters and realize that they are not alone in this struggle of identity and self-worth.
RANDOM TRIVIA
Most valuable piece of advice you've received.
"Don't over think it. Trust your gut and be fearless. Make mistakes, grow from it and MOVE FORWARD."
Favorite expression.
"Everything happens for a reason."
After a long, difficult day, what's the one song you put on when you get home?
"The one song I would play would be Michael Jackson's 'Wanna Be Startin' Somethin.'  I love dancing it out, especially to the  'Ma Ma Se, Ma Ma Sa, Ma Ma Coo Sa' part."
The Bakla Show 3
June 12-28
Thursday – Saturday, 8pm
Students and Seniors: $10
General: $15
Support the Artists: $20
(Pay-what-you-can, June 12 only)
Purchase tickets online: http://baklashow3.bpt.me/
Jun 12 – 28
Celebrate Pride 2014 at Bindlestiff Studio
The Bakla Show 3
When: Jun 12 – 28 (Thurs – Sat)  8pm
Location: Bindlestiff Studio 185 6th St. San Francisco, CA
Cost: $10 – $20; Click here to purchase tickets.
Sponsored by:
Asian Americans/Pacific Islanders in Philantropy (AAPIP), Asian Pacific Islander Cultural Center (APICC), Horizons Foundation, Red Envelope Giving Circle (REGC), San Francisco Arts Commission, Participant of 17th Annual United States of Asian America Festival 2014
The Bakla Show 3 seeks to explore the textured and multidimensional experiences of LGBTQ/GNC F/Pilipin@ youth struggles, hardships and turmoil and to bring to the forefront the celebrations, joy and love. The 2010 production The Bakla Show 2: Myths Retold, Realities Unfold showcased sketches that went on to garner numerous awards and accolades, including: Edgar Poma's "Tude and Gratitude" which, as part of Eat Our Shorts, was recognized with the SOLD OUT! Award for outstanding box office performance at the SF Fringe Festival 2010; and Emmanuel Romero's "Viewer Discretion Advised (Tape 96)" which was adapted by Drew Stephens into a much-lauded short film  (Best Fest Short Program  LGBT Film Festival, Audience Award  San Francisco Scary Cow Film Screening, Best Short  Cinema St. Louis Q Fest, nominated Best Short  Barcelona Int'l LGBT Film Festival). 
Click here for more info…